6+ Free Mutual Non-Disclosure Agreement Samples – Two-Way NDA
In the collaborative arena of business, a Mutual Non-Disclosure Agreement, often referred to as a Two-Way NDA, emerges as a pivotal safeguard. This contractual shield finds its purpose when two distinct companies, their gaze fixed on the horizon of a potential partnership or a harmonious joint venture, engage in preliminary discussions. These conversations, sparked by the spark of innovation, lay the groundwork for potential collaboration. With the prospect of shared aspirations and the birth of collective ventures, the Mutual Non-Disclosure Agreement steps onto the stage as a sentinel of confidential matters.
As the compass guiding these discussions, this agreement serves as a sentinel for sensitive information. Two companies, each holding fragments of their proprietary universe, engage in a dance of revelation, revealing select aspects of their operations, processes, and concepts. With the curtain drawn on this confidential exchange, the Mutual Non-Disclosure Agreement takes center stage, extending its cloak of protection. In the twilight of a potential partnership or the dawn of a joint venture, the agreement harmonizes its dual roles, ensuring that while disclosures flow, the sanctuary of confidentiality remains steadfast. Together, the companies advance, each step forward rooted in the assurance that their innovative conversations find sanctuary within the covenant of the Mutual Non-Disclosure Agreement.
Download Readymade Templates in MS Word Format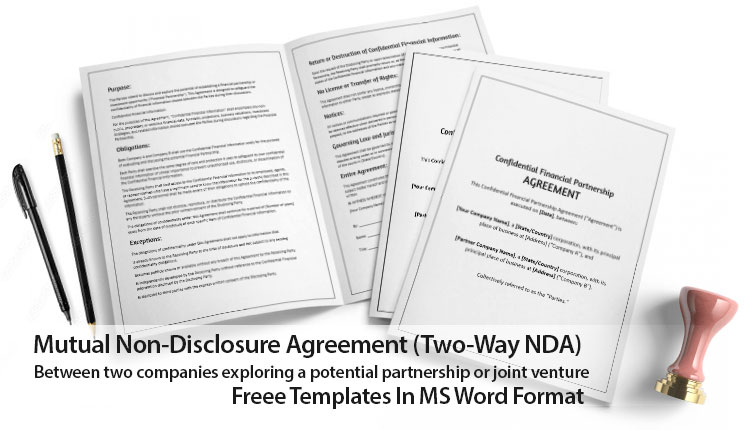 Start a seamless collaboration journey with our MS Word agreement templates – a recipe for successful partnerships is just one click away. Whether you're exploring new ground or refining strategies, these templates are your trustworthy guides. Enhanced with innovation, clarity, and legal expertise, they help you take ownership of agreements, not just read them. It's like having a legal expert right at your fingertips. Dive into our collection of templates, designed to keep you informed, secure, and ahead of the game. Turn scrolls into steps toward victorious collaborations. Your adventure begins here, one download at a time.
01. Mutual Non-Disclosure Agreement Sample for Collaborative Discovery
Explore partnerships securely with our NDA sample, fostering innovation and confidentiality.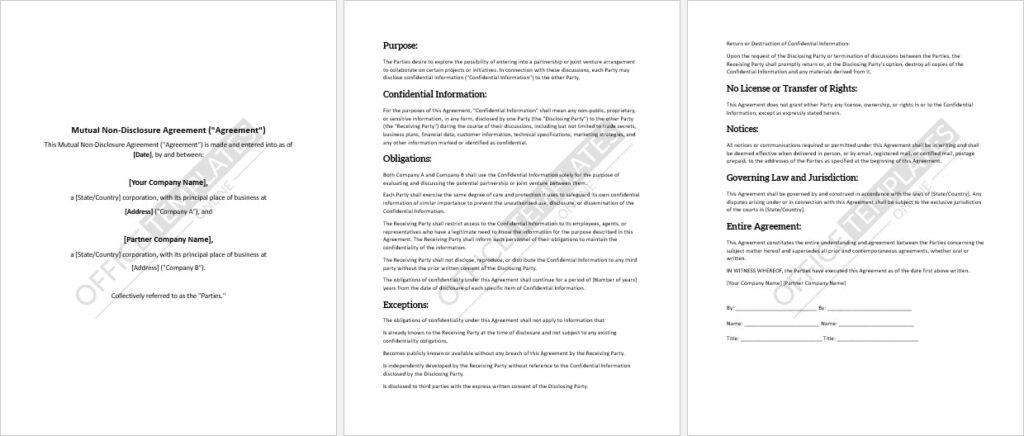 02. Partnership Harmony: Mutual Non-Disclosure Agreement Example
Achieve unity in joint ventures using our NDA template, protecting insights for success.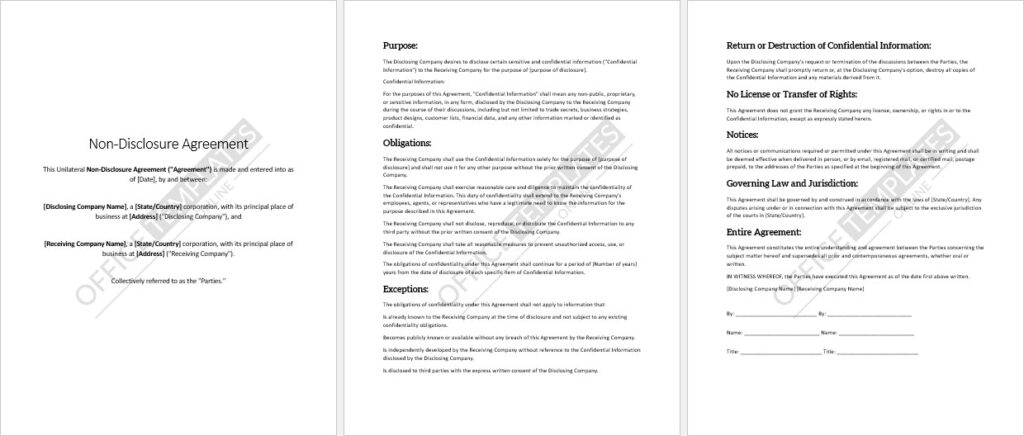 03. Innovation Synergy: Mutual NDA Sample for Co-Creation
Ignite innovation with our mutual non-disclosure agreement, nurturing shared creativity.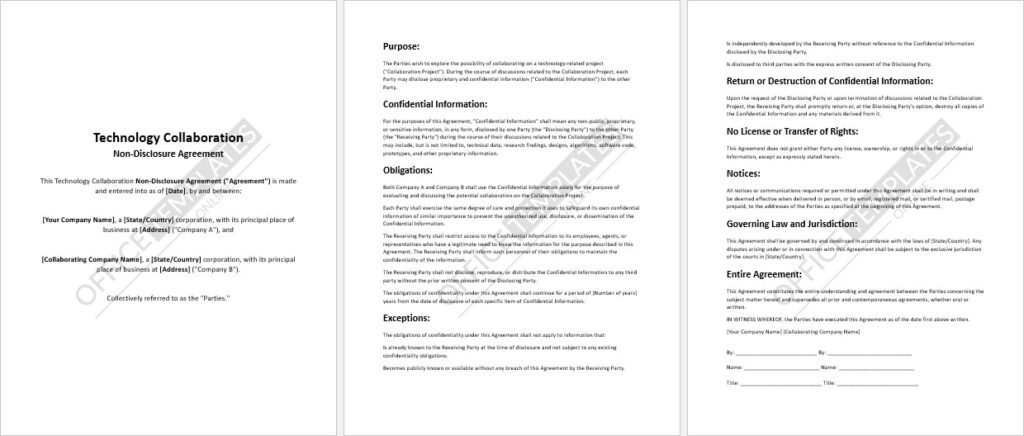 04. Strategic Unity Shield: Mutual NDA for Market Expansion
Expand markets confidently using our mutual NDA, safeguarding strategic insights.

05. Product Development Sentinel: Mutual NDA Template
Collaborate on products, shielded by our mutual non-disclosure agreement.

06. Financial Nexus Guardian: Mutual NDA Example
Secure financial partnerships with our mutual non-disclosure agreement, nurturing growth.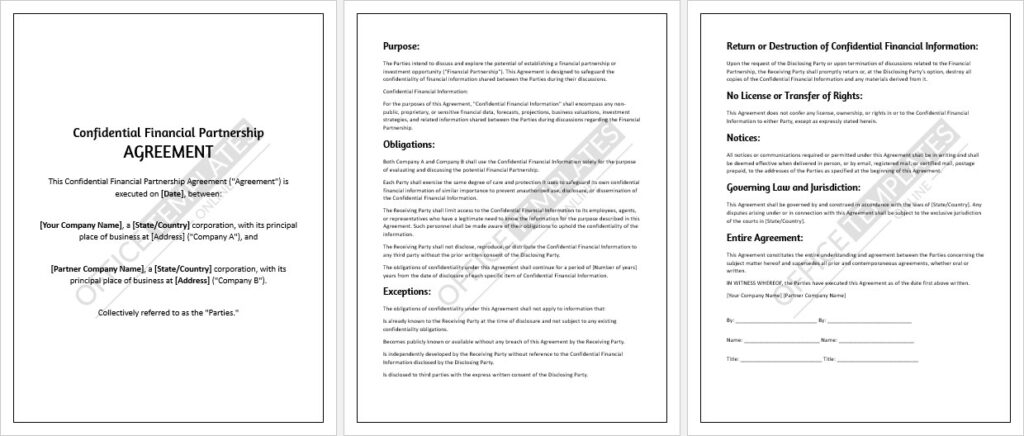 Key Components of a Two-Way NDA
A solid Mutual Non-Disclosure Agreement (Two-Way NDA) hinges on key components that ensure clarity and protection. These essentials lay the foundation for a successful collaboration while safeguarding sensitive information. Here's what you need:
Identification of Parties Involved: Clearly state who the parties are—both the disclosing and receiving entities.
Definition of Confidential Information: Explicitly define what constitutes confidential information to leave no room for ambiguity.
Obligations of Confidentiality: Clearly outline the responsibilities of each party to keep disclosed information confidential.
Exceptions to Confidentiality: Specify scenarios where confidentiality doesn't apply, like publicly available data.
Duration of the Agreement: Set a timeline for how long the agreement's terms remain in effect.
Remember, precision in wording matters. Clarity eliminates confusion and potential disputes. Craft your Two-Way NDA with concise, comprehensible language that serves your collaboration's needs.
Benefits of Mutual NDAs
A Mutual Non-Disclosure Agreement (Mutual NDA) extends a welcoming hand to a world of advantages. Embracing this agreement paints a canvas of collaboration enriched by these benefits:
Facilitating Transparent Discussions:
Mutual NDAs pave a path for open conversations, unveiling insights without hesitation.
Creating a Foundation of Trust Between Parties:
Trust flourishes as both sides commit to safeguarding shared confidential information.
Protecting Intellectual Property and Trade Secrets:
Valuable ideas find a haven, shielded from prying eyes and potential breaches.
Encouraging Collaboration and Innovation:
The security blanket of a Mutual NDA emboldens creativity and joint efforts.
With each advantage, the tapestry of collaboration gains depth, weaving together a journey of shared aspirations and protected ingenuity.
Tips for Effective Collaboration
Unlock the secrets to a flourishing partnership or joint venture with these invaluable best practices. As you embark on this journey, keep these strategies in mind for a harmonious and fruitful collaboration:
Open Communication and Clear Goal-Setting:
Establish a solid foundation by fostering open, honest discussions. Clearly outline shared objectives, expectations, and milestones. Transparent communication ensures everyone is on the same page.
Regular Review and Updating of the NDA:
Safeguard your partnership's integrity by periodically revisiting and revising your Mutual NDA. As circumstances evolve, ensure your agreement remains aligned with your collective vision.
Addressing Potential Disputes or Breaches in a Constructive Manner:
Challenges may arise, but how you handle them defines your collaboration's resilience. Approach conflicts with a problem-solving mindset. Resolve disputes amicably and uphold the spirit of partnership.
Embrace these practices as guiding stars, illuminating the path to success in your partnership or joint venture. Through communication, adaptability, and a commitment to growth, your collaboration can transcend obstacles and flourish. Remember, a shared journey thrives when nurtured with care and fortified by these proven principles.