12+ Templates of Personal Injury Settlement Agreements: Free Downloads!
Need help drafting a Personal Injury Settlement Agreement? You've come to the right place! Our website has a collection of templates for Personal Injury Settlement Agreements that are easy to use. These templates guide you through creating a thorough and legally valid document. Whether you're handling this as an individual you're a legal professional, or even if you're one of the parties involved in a personal injury case, these templates are designed to assist you in outlining the specific terms and conditions of the settlement accurately.
Streamline Your Resolution with Ready-to-Use Templates in MS Word Format
Discover our wide array of Personal Injury Settlement Agreement Templates, all available for free download in Microsoft Word format to simplify your legal journey. No matter the nature of your personal injury case – be it an auto accident, a slip and fall, medical malpractice, or a workplace injury – we have thoughtfully created templates to suit your needs. Download, personalize, and utilize these templates to streamline the settlement process and ensure a fair and just resolution for all parties involved.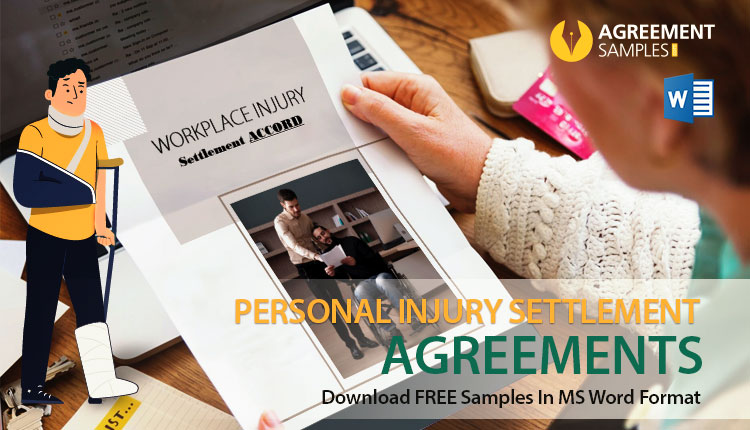 Empower yourself with these easy-to-use, professionally designed templates as you navigate your personal injury case. We recommend consulting a legal professional to ensure your settlement agreement is legally sound and tailored to your specific circumstances.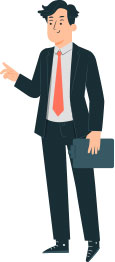 How to Download:
Click on the template you need.
Read the description and terms of use.
Click the "Download" button.
The template will be downloaded to your device in a commonly used format, such as MS Word.
01. Comprehensive Personal Injury Settlement Agreement
It covers things like who's at fault, how much money is involved, and when the injured person agrees not to sue anymore.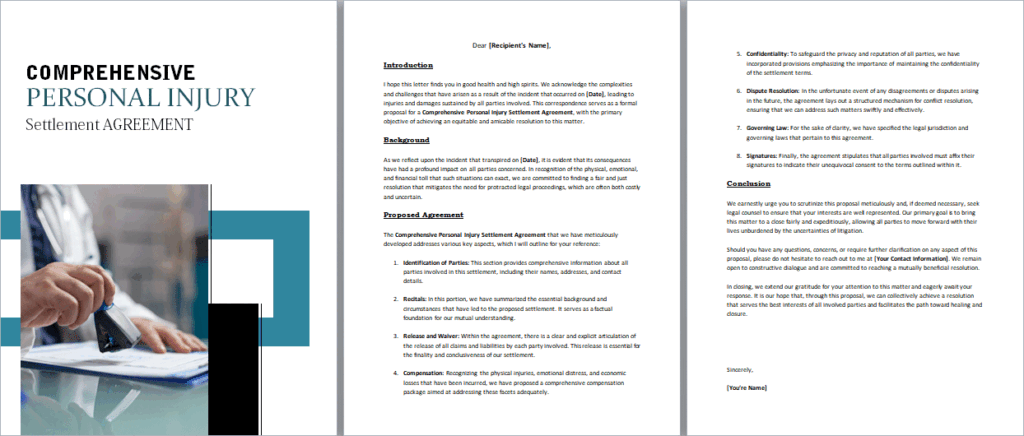 02. Motor Vehicle Accident Settlement Agreement
Following thorough negotiation and assessment of the accident-related damages, both parties have come to a mutually agreeable resolution regarding liability, compensation, and other pertinent terms.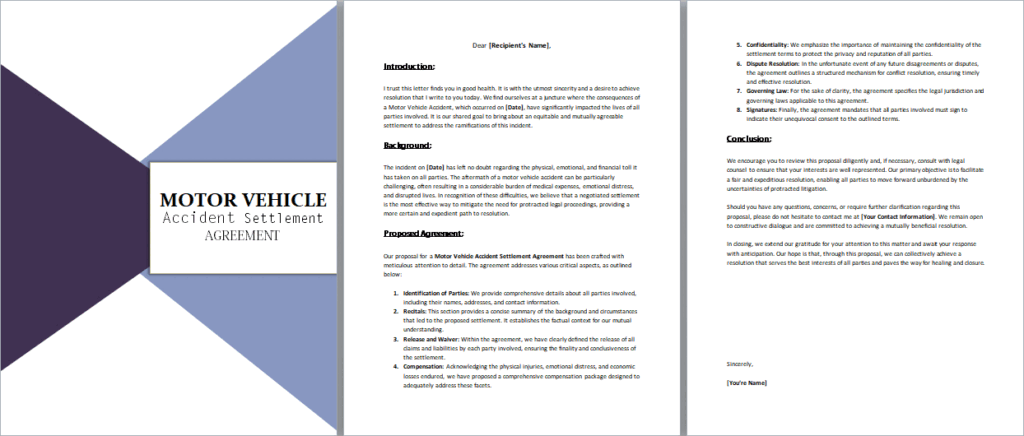 03. Premises Liability Settlement Agreement
This communication succinctly encapsulates the terms and conditions outlined in the mutually agreed upon Agreement between the two parties.

04. Medical Malpractice Compensation Agreement
It's an agreement that both [Patient/Claimant] and [Healthcare Provider/Insurer] have thoughtfully and carefully worked on.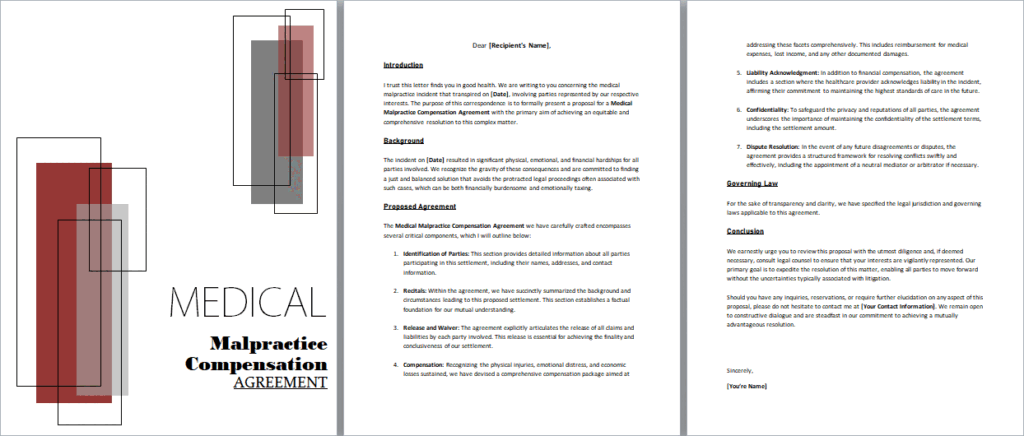 05. Product Liability Compensation Agreement
It's an agreement that both parties have worked hard to create. We've carefully looked at everything and agreed on who's responsible, what compensation is needed, and other important details.
06. Workers' Compensation Settlement Accord
We've carefully looked at the workplace injury claim and reached an agreement that we both believe is fair and reasonable.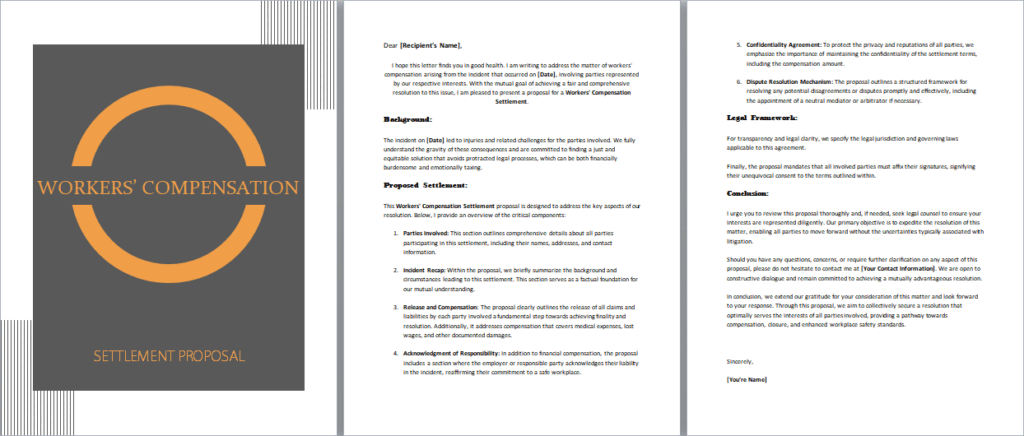 07. Wrongful Death Compensation Agreement
Following thorough examination and sensitive deliberation, all parties have arrived at a mutually agreeable resolution regarding the wrongful death case.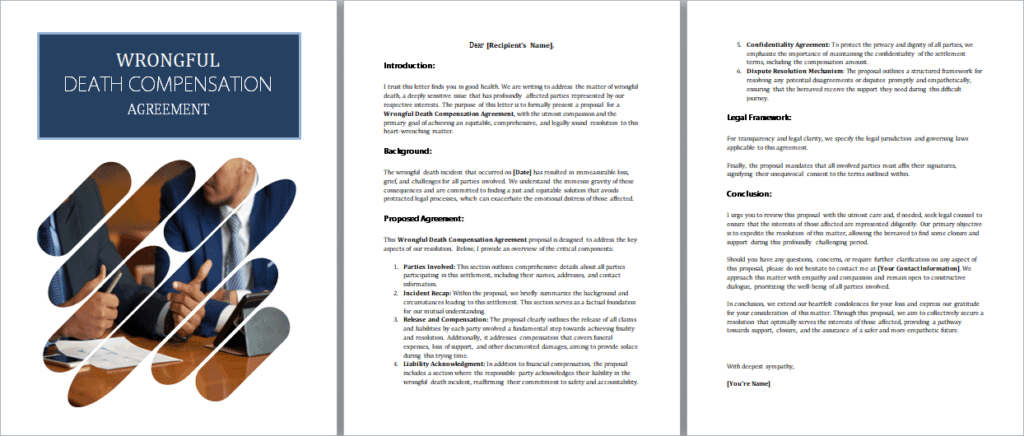 08. Canine Injury Compensation Agreement
After discussing and considering all aspects, we've managed to reach an agreement that both sides see as fair and just.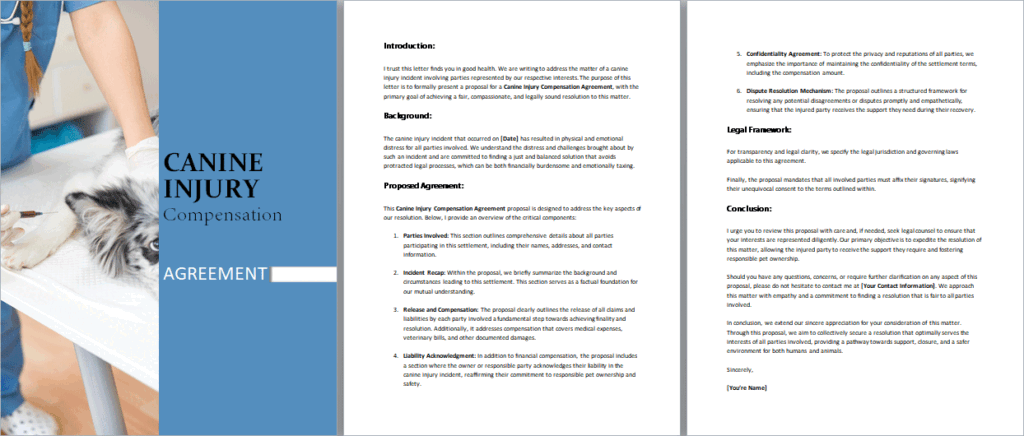 09. Assault and Battery Resolution Agreement
I wanted to briefly talk about the Agreement that we've all worked on together. We've had discussions and negotiations to reach an agreement that everyone is on board with regarding the incident of assault and battery.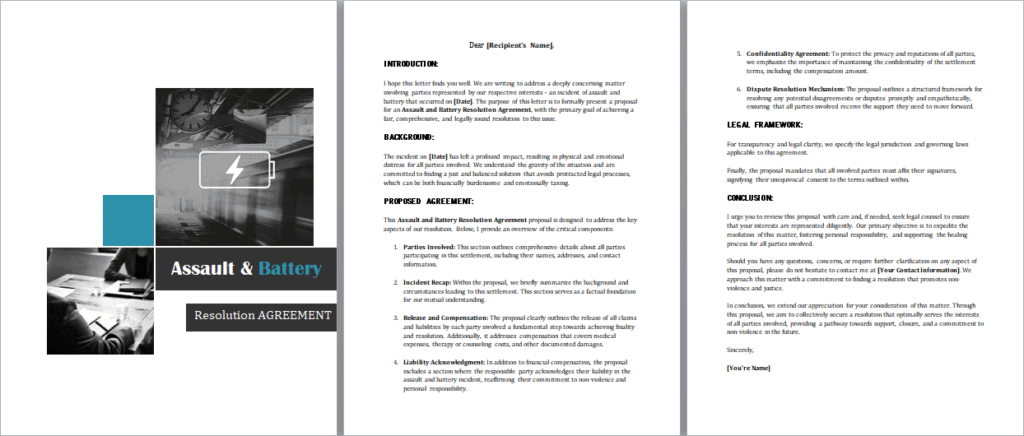 10. Workplace Injury Settlement Accord
In the accord, we've made sure to clearly outline how compensation and other important aspects will be handled, ensuring that everyone's needs and concerns are taken into account.

11. Mass Tort or Class Action Compensation Agreement
After extensive discussions and considering everyone's perspective, we've reached an agreement that's fair and satisfactory for all involved in this collective claim.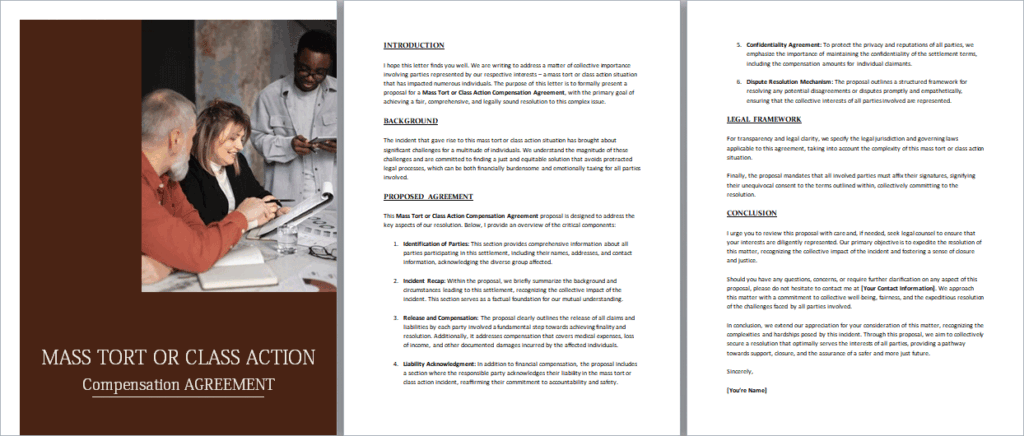 12. Construction Site Accident Settlement Accord
We've gone through the details of the accident that took place at the construction site and managed to come to an agreement that we all find fair and satisfactory.

What's Included in the Templates?
Our templates cover a wide array of personal injury scenarios, ensuring you can find one that fits your specific needs. Some of the common elements included in the templates are:
Parties Involved: Clearly defining and identifying all parties agreeing.
Description of Injury: Providing a detailed account of the injury or injuries sustained.
Liability and Responsibility: Determining liability and the responsible party or parties involved in the injury.
Compensation and Damages: Outlining the compensation and damages to be awarded, including medical expenses, lost wages, pain and suffering, and more.
Confidentiality Clause: Addressing the confidentiality of the settlement to protect the privacy of the parties involved.
Release of Claims: Ensuring a full and final release of all claims related to the injury.
Terms and Conditions: Laying out any other terms and conditions agreed upon by both parties.
How to Use the Templates
Browse and Choose: Explore our collection of templates to find the one that suits your case.
Download: Simply click on the template you want and download it for free.
Customize: Fill in the necessary details and customize the agreement as per your specific situation.
Consult a Professional: If needed, consult with a legal professional to ensure the agreement meets all legal requirements and adequately protects your interests.
Why Use Our Templates?
Save Time and Effort: Our templates provide a ready-made format, saving you the hassle of creating an agreement from scratch.
Legally Sound: Our templates are designed by legal experts, ensuring they are compliant with relevant laws and regulations.
Customizable: Tailor the templates to suit your specific case, adding or removing clauses as needed.
Cost-Effective: Our templates are available for free, offering a cost-effective solution for drafting your settlement agreement.
Download our Personal Injury Settlement Agreement templates now to streamline the settlement process and ensure a fair and comprehensive resolution for all parties involved.