Unlock a Range of 15+ Free Real Estate Purchase Agreements for Your Needs
Welcome to our page! We've assembled a diverse range of Real Estate Purchase Agreements just for you. Navigating through them is a breeze, ensuring you can easily find the perfect agreement for your needs. Whether you're a seasoned real estate pro or new to the market, our collection covers various scenarios and property types. Best of all, you can explore and access these agreements for free. We firmly believe that finding the right agreement should be simple, and our platform is here to streamline your real estate journey. So, embark on your hassle-free exploration today and uncover the contract that best suits you – it's all here at your fingertips, and it won't cost you a thing.
Start Your Hassle-Free Real Estate Journey: Download the Templates in MS Word Format Now!
Your real estate journey doesn't have to be complicated. It begins with finding the right agreement, and we're here to simplify that process for you. Whether you're a seasoned real estate professional or a first-time homebuyer, our collection has something for everyone.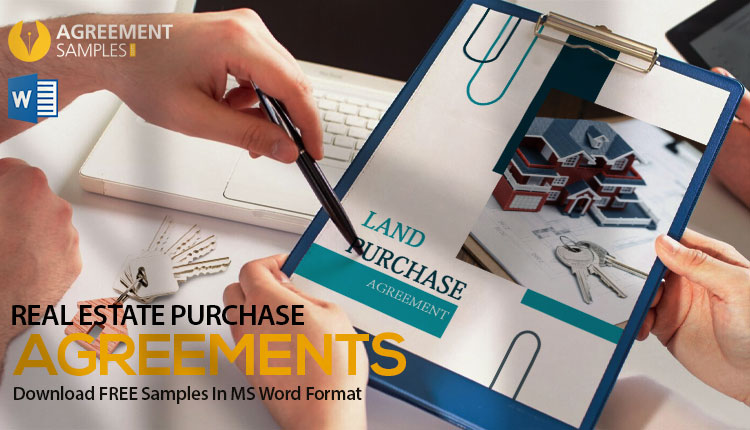 Unlock your range of options today. Simply browse our library, select the agreement that aligns with your specific needs, and download it at no cost. Your smooth real estate transaction is just a click away.
Explore our collection now, and empower your real estate endeavors with professionally crafted, cost-free Real Estate Purchase Agreements.
01. Residential Property Purchase Agreement
In this agreement for buying a residential property, we've ironed out all the specifics. We've got the purchase price nailed down, figured out how and when payments will be made, and outlined what needs to happen at the closing.

02. Commercial Real Estate Acquisition Contract
This contract is your roadmap to buying a commercial real estate property. It covers all the bases – how much you're paying, how and when payments happen, and what goes down at the closing.

03. Land Purchase Agreement
Within this document lies the blueprint for securing a piece of land. It's the nitty-gritty – setting the purchase price, deciding on payment terms, and plotting out the closing details.

04. New Construction Property Contract
From giving the thumbs up to the design and picking out materials to every step in the construction process and finally moving in. This document is like our trusty roadmap for a smooth and successful journey in creating a new property.

---
How to Create a Proposal for Business in MS Word
---
05. Condominium Transaction Agreement
From what's being paid and when, to how we wrap it up at the end, this agreement sets a solid path for a smooth condominium acquisition. In this document, we've detailed how the condominium transaction will unfold.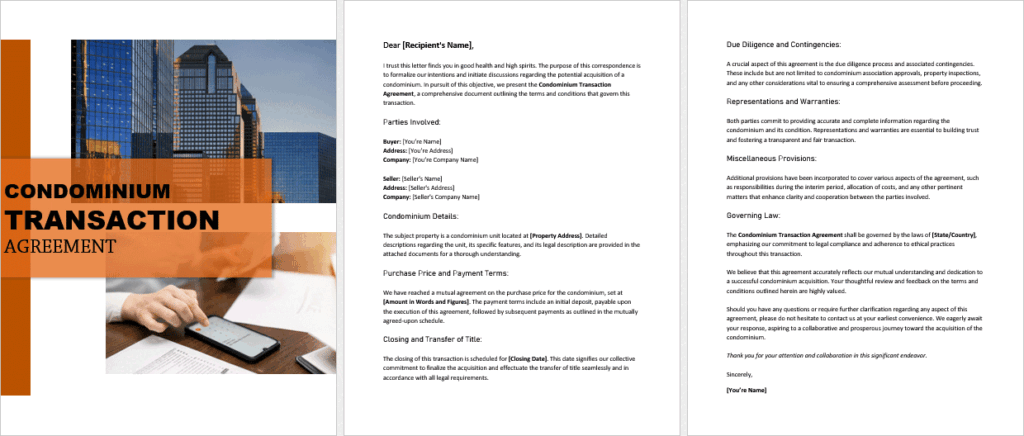 06. Cooperative Housing Acquisition Contract
It defines the purchase conditions, payment modalities, and closing procedures clearly and professionally, offering a definitive pathway for a successful cooperative housing acquisition.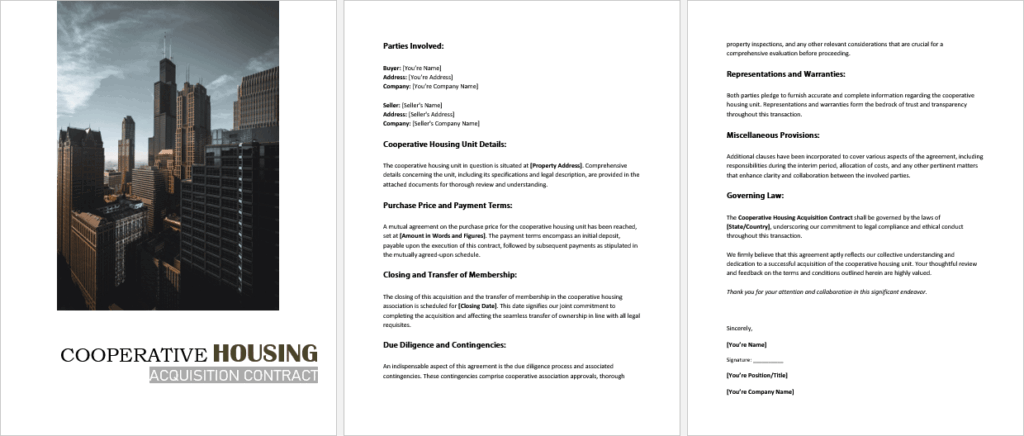 07. Vacant Land Purchase Contract
It breaks down all the vital details – what you're paying, when, and how the deal gets sealed. Think of it as your trustworthy roadmap to a successful vacant land purchase.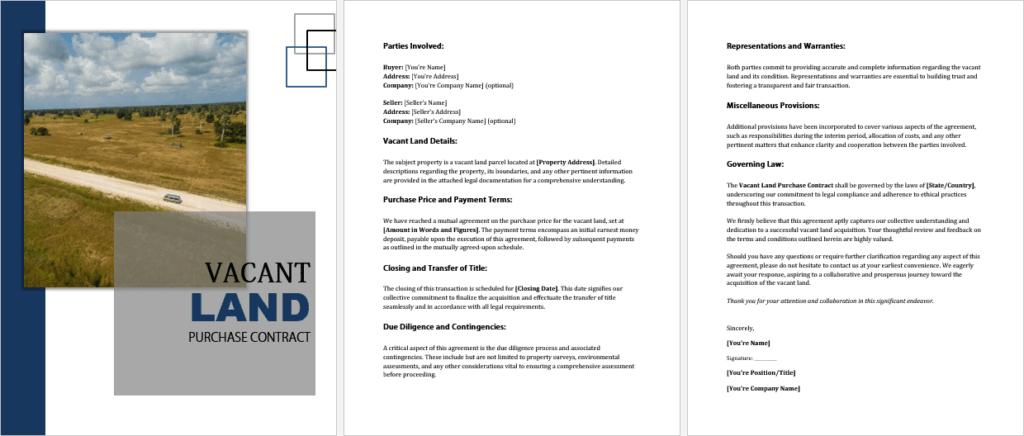 08. Multi-Family Property Transaction Agreement
This is like a rulebook for buying or selling properties that house multiple families, like apartment buildings or duplexes. It lays out all the important stuff – how much it'll cost, how and when to pay, and the steps to close the deal.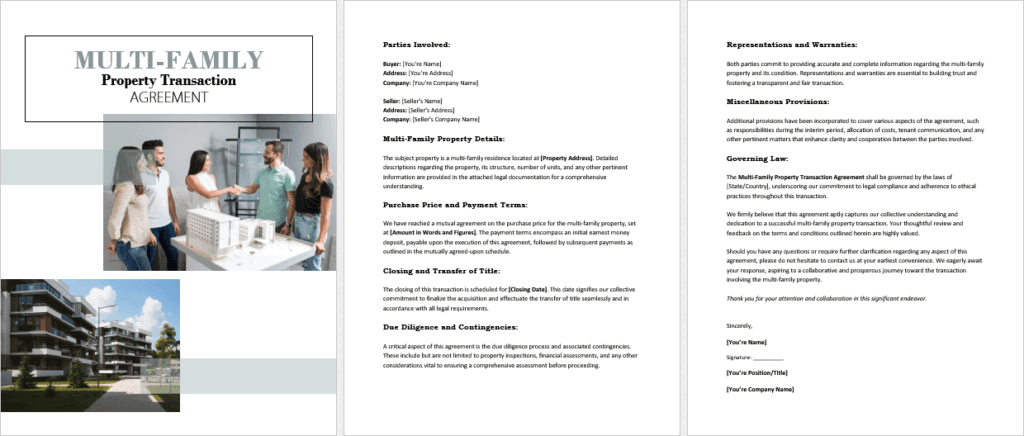 09. Single-Family Residence Agreement
Think of it as a mutual pact that ensures a smooth and successful process for purchasing that one special residence where a single family will make a home.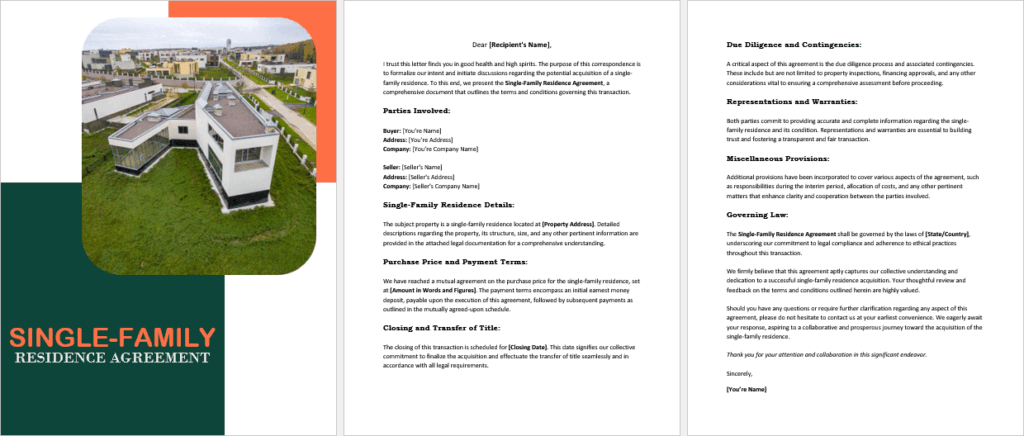 10. Townhouse Transaction Contract
This agreement is like a personalized script that covers the purchase specifics, how the payments will roll out, and the steps needed to finalize the transaction.
11. Short Sale Acquisition Agreement
It's a bit like a specialized playbook, defining the purchase terms, how payments will unfold, and the path to a successful closing.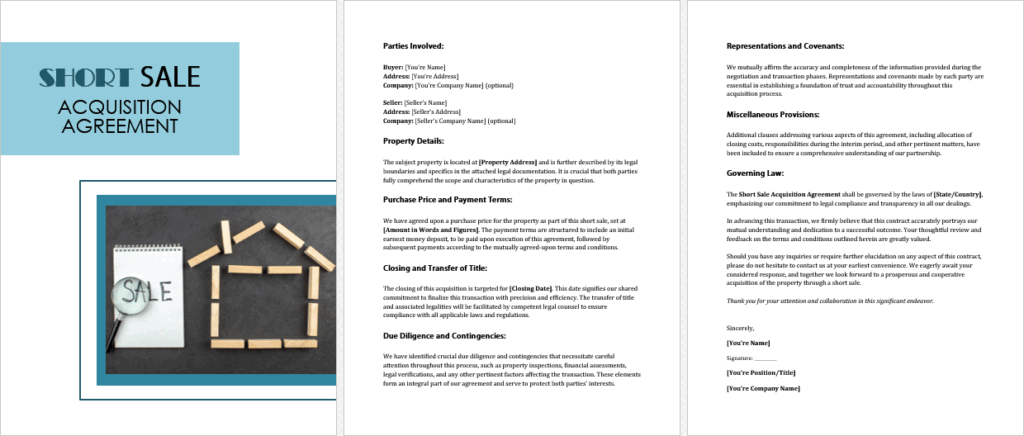 12. Foreclosed Property Purchase Contract
In the realm of real estate, a foreclosed property purchase agreement is like a tailor-made blueprint for potential buyers. It precisely defines the purchasing conditions, the agreed-upon payment sequence, and the road to closing the deal.

13. Lease with Purchase Option Agreement
It's akin to a two-in-one road guide, clearly defining the lease terms and monthly payments while also setting the stage for a potential purchase.

14. Rental with Purchase Option Contract
Think of it as a dual-featured manual—it spells out the lease terms and monthly payments for renting while opening up a door for future purchases.

15. Mobile Home Transaction Agreement
It's like the conductor's baton that orchestrates the entire deal, defining the purchase terms, payment plan, and the roles each party plays.

Why Choose Our Real Estate Purchase Agreements?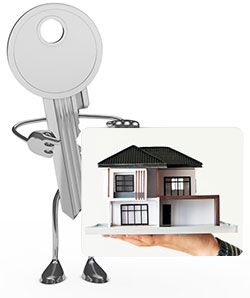 Diverse Selection: Our collection includes a wide array of samples, covering scenarios from traditional home sales to specialized transactions.
Professionally Crafted: Each of these is professionally drafted to align with legal standards and best practices, giving you peace of mind during your real estate transactions.
Cost-effective: All the purchase agreements available on our platform are completely free, saving you the costs typically associated with legal document acquisition.
Ease of Use: Our user-friendly interface makes it simple to browse, select, and download one that suits your needs best.
We aim to simplify your real estate endeavors by providing the tools you need to secure successful transactions. Browse our collection now and find the perfect Real Estate Purchase Agreement for your situation. Your next property venture begins here – hassle-free and cost-effective.
What are the different types of purchase agreements?
There are four primary types of purchase orders. The difference between them is essentially based on how much information is known at the time the order is made. The four types are standard purchase orders, planned purchase orders, blanket purchase orders, and contract purchase orders.
Standard Purchase Orders:
Description: These are the most common and basic types of purchase orders.
When Used: When the buyer knows exactly what and how much is needed.
Details Included: Specific details like item description, quantity, price, and delivery date.
Flexibility: Less flexible as changes typically require creating a new purchase order.
Planned Purchase Orders:
Description: Purchases are planned in advance but with some flexibility.
When Used: When a business anticipates future needs and wants to ensure availability.
Details Included: General terms and conditions, not specific on quantities or delivery dates.
Flexibility: Allows for adjustments in quantities and dates as needed.
Blanket Purchase Orders:
Description: A long-term agreement for recurring purchases over a specified period.
When Used: For recurring purchases of similar items from a supplier.
Details Included: Overall terms, but specifics like quantities and delivery schedules may vary for each release against the blanket order.
Flexibility: Offers flexibility in managing ongoing purchases within the agreed framework.
Contract Purchase Orders:
Description: Formal contracts establishing terms and conditions for purchases.
When Used: For high-value, long-term procurement where predictability and control are crucial.
Details Included: Comprehensive details including quantities, delivery schedules, pricing, terms, and conditions.
Flexibility: Limited flexibility due to the legally binding nature of the contract, changes require mutual agreement or amendments.
It's important to choose the appropriate type of purchase order based on the specific circumstances and requirements of the transaction.
Navigating the Real Estate Landscape: The Significance of a Well-Structured Purchase Agreement

In the bustling realm of real estate transactions, a well-structured contract stands as a sentinel, guarding the interests of both buyers and sellers. Here's how this agreement acts as a steadfast ally, protecting both parties in this complex landscape:
Crystal Clear Terms: A thoughtfully structured agreement leaves no room for ambiguity. It vividly lays out the terms and conditions, leaving both buyer and seller with a clear understanding of their roles and responsibilities.
Mitigating Disputes: By leaving nothing to chance, this acts as a preemptive shield against potential disputes.
Legal Compliance Assurance: With intricate legal jargon carefully deciphered, the agreement ensures compliance with all necessary regulations and laws.
Protection of Interests: Both parties can enter the transaction with confidence, knowing that their interests are safeguarded.
Transaction Streamlining: A well-structured agreement streamlines the transaction process, avoiding unnecessary delays and confusion.
Flexibility with Specifics: Tailored to the unique property and transaction at hand, the agreement allows for the incorporation of specific details.
In essence, a Real Estate Purchase Agreement, when meticulously constructed, transforms a potentially arduous transaction into a guided expedition, ensuring both buyer and seller traverse the real estate landscape with confidence, clarity, and legal assurance.